Vancouver, BC, November 19, 2019 – HEMPTOWN ORGANICS CORP. ("Hemptown" or the "Company"), Hemptown is pleased to provide a corporate update to shareholders on the successful harvesting of the Company's Oregon CBG fields and its Colorado and Kentucky CBD operations, as well as other recent developments.
CULTIVATION AND HARVEST
Oregon
Hemptown is pleased to announce the successful completion of the 2019 Oregon harvest. Beginning in June of this year, the Company planted approximately 500 acres of CBG feminized industrial hemp in Oregon, utilizing rare cultivars from Oregon CBD Seeds that produce a plant with a high cannabigerol (CBG) content and very low THC content. The Company's Oregon operation has positioned Hemptown as one of the largest single cultivators of high-quality CBG in North America.
The cultivation of feminized hemp is a new industry for farmers, which carries many challenges from planting to harvesting and drying when done on a commercial scale. There is currently no commercial/industrial scale equipment available "off the shelf" that allows a farmer to plant, harvest and dry this crop. Hemptown made a substantial capital investment into equipment and infrastructure to facilitate Hemptown's scaling of operations and reducing operating costs in competing in the legal hemp sector.  The Oregon operation includes:
HARVESTING COMBINES: Purchase of three John Deere custom harvest combines. Fabricated specifically for the harvest of feminized hemp to be processed and extracted, leveraging proprietary intellectual property (IP).
DRYING: With experience from last year, we continue to experiment to find even more economical solutions to drying challenges.  We constructed ten grain silos to maximize our hemp biomass drying capacity. Our results are encouraging, with data is showing we can dry approximately 25,000 to 30,000 dry pounds per day.
LABOR: The Company hired over 200 seasonal employees to support the harvest, drying and trimming of our harvest over the 2-month harvest period.  
CAPITAL INVESTMENT: Hemptown purchased more than $1 million of tractors and specialty implements, allowing us the option to increase the Oregon farming acreage.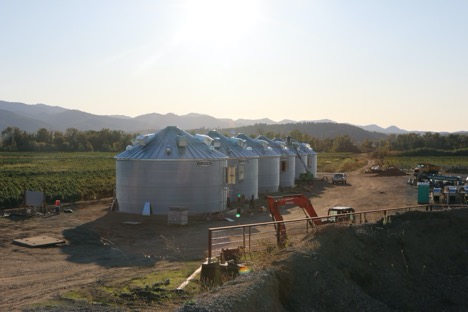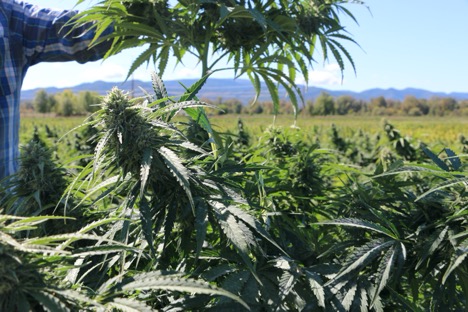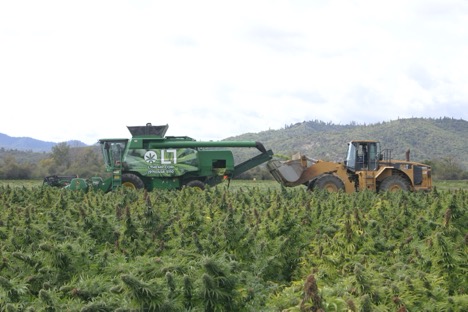 Kentucky and Colorado
Hemptown's Kentucky cultivation operation, across 19 contract farms, have been successfully harvested. The Company's harvest projections are encouraging. Total harvest is estimated to be close to 1 million pounds of cannabidiol (CBD) rich hemp biomass and flower. The quality measures of the harvest indicate that the biomass is some of the best grown in the region, according to testing completed by our processing partner in Kentucky.
The Company's Colorado operation has also completed its harvest. Adverse weather conditions presented challenging conditions for the harvest this season, but it is estimated the harvest will be over 700,000 pounds of CBD rich biomass and flower once it is dried.
Overall, Hemptown's 2019 harvest was incredibly successful. The Company achieved its 2019 goals, made possible with shareholders capital and belief in its management team. The Company grew from a 50-acre cultivation operation in Oregon in 2018 to approximately 500-acres. In total Hemptown had over 1,500 acres in three states that successfully completed planting, harvesting and drying of well over 2 million pounds of CBG & CBD industrial hemp.
ELEMENTAL PROCESSING PARTNERSHIP

Hemptown is pleased to announce that it has entered into a partnership with one of the top cannabinoid extraction companies in North America, Elemental Processing ("Elemental"). Elemental's state-of-the-art main facility in Kentucky has more than 42,000sqft, making it one the nation's largest and most advanced facilities in the extraction of cannabinoids. Elemental utilizes commercial scale CO2 extraction, distillation, and refinement of CBG and CBD biomass, to produce finished crude, distillates, isolates and water-soluble powders. Elemental supplies bulk ingredients to a multitude of cannabinoid co-packers, university research centers, and of course, our own FDA licensed cGMP nutraceutical manufacturing facility, Kirkman Labs. Elemental brings over 4 years of extraction experience in the cannabinoid processing space to the partnership with Hemptown. The partnership will supply Hemptown access to established sales channels and offtake agreements
The partnership allows Hemptown to fast-track and deliver the highest quality hemp-derived raw materials globally. The partnership agreement will have bulk CBG commercial products available to customers who require a consistent and guaranteed supply of quality products. Delivery of products will begin in mid-November. Hemptown and Elemental have committed to a partnership that will see the development of a true supply chain for the supply of raw cannabinoidmaterials and novel cannabinoids. The ingredients produced by Hemptown and Elemental will enable customers to deliver consistent and effective CBG and CBD based products to retail customers and consumers at scale.
What is CBG?
CBG, or Cannabigerol, is the pre-cursor cannabinoid to THC, CBD, CBC, CBGv and other minor cannabinoids. CBG has a number of properties that are actively being researched and developed into a variety of different potential therapeutic indications. Hemptown commissioned a 3rd party whitepaper, summarizing the peer-reviewed research, as well potential applications of CBG. To access the CBG whitepaper click here.
CORPORATE DEVELOPMENTS
Aside from farming operations and our exclusive partnership with Elemental Processing, the Company has also been very active on a number of different fronts over the past months. Hemptown is committed to executing our new strategic plan with the best in-class talent in the industry.
Management
In August, Hemptown appointed Russell Skibsted as its Chief Financial Officer (CFO). Mr. Skibsted is seasoned executive with over 30 years' experience in finance, acquisitions, partnering, marketing and operations with companies ranging from start-ups to a Fortune 5 company. He has over 15 years CFO experience in the public life science space. He has been responsible for over $105 million in non-dilutive funding and over $220 million in public financings for pre-revenue biopharma companies, including multiple IPOs. Mr. Skibsted has extensive Wall Street and NASDAQ experience.
In October, Hemptown appointed a new director to the board, Steven H. Reiff. Mr. Reiff has been nominated as the lead independent director, chair of the audit and CCGC committees. Mr. Reiff gained over thirty years of experience in investment management and wealth management in a fiduciary environment. Mr. Reiff worked at BNY Mellon Wealth Management from 1999 to 2014. From 2008 to 2014, Mr. Reiff served as the National Director of Investment Solutions and Investment Advisory for BNY Mellon Wealth Management, a wealth manager whose assets under management totaled over $100 billion. Mr. Reiff has served on the board of a public company, Alcentra Business Development Corporation (ABDC), a NASDAQ traded company. Mr. Reiff brings key experience to Hemptown's board as the company enters the next stage of its rapid growth.
Kirkman
Since the acquisition of the Kirkman Group in June of this year, Hemptown has been working with management to transition the facility's core business to focus on the formulations and production of cannabinoid-based consumer packaged goods. Hemptown intends to launch a number of formulations and brands that will be produced at the Kirkman facility over the coming months and years. Kirkman operates an FDA licensed, cGMP, NSF certified 25,000 sq. ft. nutraceutical manufacturing facility located in Lake Oswego, Oregon. Hemptown anticipates future FDA requirements and forthcoming policy decisions by the federal government will require these production standards with respect to finished goods and products.
More About Kirkman
For over 70 years Kirkman has been recognized as a leader in the development and manufacturing of "pure" nutraceuticals and nutritional supplements for individuals with autism and special needs. Kirkman currently manufactures products that offer a variety of wellness benefits, including hemp-derived CBD products, antioxidant and immune system support, multivitamins, detox drinks and children's supplements.
Corporate Finance
On October 4th, 2019, Hemptown participated in the Canaccord Genuity 2nd Annual Cannabis Symposium. Mr. Skibsted presented on behalf of the Company, highlighting Hemptown's focus on novel cannabinoids and revenue model. The Company also met with a number of institutional investors at the conference.
On November 12th and 13th Hemptown participated in the Jefferies 2019 West Coast Consumer Conference in San Francisco. The conference featured leading executives, institutional investors, private equity investors and VCs addressing near- and long-term investment opportunities as well as the mechanisms driving the consumer industry in the U.S. and internationally. Hemptown was able to meet with representatives from The Coca-Cola Company, British American Tobacco, Imperial Brands, Diageo, Anheuser-Busch InBev and many others.
Hemptown is pleased to announce that since the beginning of 2019, the Company has closed over CDN$33 million in financing, supporting growth and scaling of operations over the past months. The Company has been refining its strategic and operational plans to enhance the value of our business, and to determine our path to revenue and profit growth from production of leading-edge cannabinoids, effective processing of biomass materials, and development and distribution of consumer products.

Disclaimer for Forward-Looking Statements
This news release contains forward-looking statements that involve various risks and uncertainties regarding future events. Such forward-looking statements are based on current expectations of management, involve a number of risks and uncertainties, and are not guarantees of future performance of the Company. These statements generally can be identified by the use of forward-looking words such as "may", "should", "will", "could", "intend", "estimate", "plan", "anticipate", "expect", "believe" or "continue", or the negative thereof or similar variations. Forward-looking statements in this news release include statements regarding the closing date of the financing, the attributes of the securities to be offered and sold by the Company, the proposed use of the net proceeds of the Offerings. Forward-looking statements are necessarily based on a number of estimates and assumptions that, while considered reasonable, are subject to known and unknown risks, uncertainties and other factors that may cause actual results and future events to differ materially from those expressed or implied by such forward-looking statements. Factors that could cause actual results or events to differ materially from current expectations include general market conditions, significant business, competitive, political and social risks and other factors beyond the control of the Company. The Company expressly disclaims any intention or obligation to update or revise any forward-looking statements whether as a result of new information, future events or otherwise, except as required by applicable law.